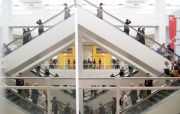 © Frankfurt Book Fair/Hirth
When we talk about the Frankfurt Book Fair we're referring to more than one concept at once.
Firstly, the Frankfurt Book Fair is the most important book fair in the world and has been held since 1949. It covers a space of some 200,000 square metres in the city centre and lasts for five days at the beginning of October.
Secondly, we are talking about what it means to be the guest of honour in 2007. Since 1988, when Italy was designated the guest of honour, the Frankfurt Book Fair has set aside a space in each edition for the promotion of an invited guest culture.
The 2007 Frankfurt Book Fair will take place on October 9 – 14.
Numerous activities are planned in the context of the Fair, both within the large fair space and throughout the city of Frankfurt. Many of these activities are organized by publishers and other companies attending the event. The most important group of events, however, are presented by the Fari's guest of honour.
History
The history of the Frankfurt Book Fair dates back to the 15th century, when Johannes Gutenberg first invented movable type – only a few kilometres down the road from Frankfurt.

Frankfurt remained the central and undisputed European book fair city through to the 17th century. Due to ensuing political and cultural upheaval, however, Leipzig took on an important role in the 18th century.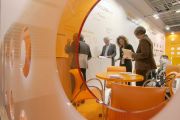 © Frankfurt Book Fair/Hirth
In 1949, that early Frankfurt book fair tradition was given a new lease on life: 205 German exhibitors assembled on September 18-23 in Frankfurt's Paulskirche for the first post-War book fair.
More than 50 trade-fair years later, the Frankfurt Book Fair is the largest of its kind in the world and a hallmark for international literary and cultural activities.
With year-round services and information offerings for the international book trade, the Frankfurt Book Fair has thus emerged as the world-wide market place for ideas, 365 days a year.