MONZ�, Quim (Barcelona, 1952)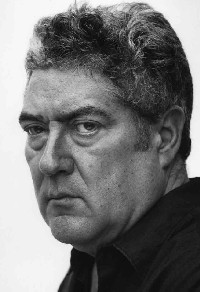 Auditorium Forum 11-10-07 15.00
Auditorium R. Llull 12-10-07 12.00
Translators Centre 13-10-07 13.00
Escriptor. Ha alternat sempre la narrativa i l'articulisme i és col·laborador habitual del diari La Vanguardia. Des del primer recull de contes, Uf, va dir ell (1978), es fa perceptible una evolució cap a la màxima elisió d'elements superflus, tant pel que fa a la ficció com pel que fa al model de llengua literària. Entre els diversos reculls destaquen El perquè de tot plegat (1993), Guadalajara (1996) o Tres nadals (2003). El 2004 va aplegar la narrativa curta a Vuitanta-sis contes. L'any 1983 publica Benzina (1983), una novel·la sobre la buidor i el sense sentit de l'art postmodern, i el 1989 La magnitud de la tragèdia, on juga amb el clixé del personatge que té els dies comptats. La seva literatura periodística s'incorpora plenament a la seva obra amb un total de set reculls d'articles publicats Zzzzzzzz... (1987), Tot és mentida (2000) o El tema del tema (2003), entre d'altres, la lectura dels quals proporciona un testimoni insubstituïble de les dues últimes dècades. Ha traduït Capote, J.D. Salinger, Bradbury, Hardy, Hemingway, Barth, Miller… Ha rebut el premi Nacional de literatura, el de novel·la Prudenci Bertrana, i, en més d'una ocasió, el Premi Crítica Serra d'Or, entre molts altres. Ha escrit, amb Cuca Canals, els diàlegs de Jamón, jamón de Bigas Luna i El tango de Don Joan, amb Jérôme Savary. Tota la seva obra es troba a Quaderns Crema i ha estat traduïda a més d'una vintena de llengües.
Schriftsteller. Von Anfang seiner schriftstellerischen Tätigkeit an hat er sowohl Literatur als auch Zeitungsartikel geschrieben, so ist er regelmäßiger Mitarbeiter bei der Tageszeitung La Vanguardia. Schon im ersten Erzählungsband, Uff, sagte er (1978), zeichnete sich eine klare Entwicklung hin zur Unterlassung aller überflüssigen Elemente ab, sowohl die Fiktion als auch das Modell der literarischen Sprache betreffend. Unter seinen Erzählbänden sind herauszuheben Der Grund der Dinge (1993), Guadalajara (1996) oder Drei Weihnachtsfeste (2003). 2004 fasste er seine Kurzgeschichten im Band Sechsundachtzig Geschichten zusammen. 1983 wurde Benzin (1983) veröffentlicht, ein Roman über die Leere und die Sinnlosigkeit der postmodernen Kunst, und 1989 Das ganze Ausmaß der Tragödie, wo es um eine Person geht, deren Tage gezählt sind. Seine journalistischen Arbeiten sind on sieben Bänden gesammelt, unter anderem Zzzzzzzz... (1987), Alles Lüge, (2000) oder Das Thema des Themas (2003), deren Lektüre ein unersetzbares Zeugnis der vergangenen zwei Jahrzehnte vermittelt. Er hat Autoren wie Capote, J.D. Salinger, Bradbury, Hardy, Hemingway, Barth oder Miller übersetzt. Seine Werke wurden mit einer Vielzahl an Auszeichnungen versehen, u.a. dem katalanischen Nationalpreis für Literatur, dem Prudenci-Bertrana-Preis für Romane, und mehrmals mit dem Preis Crítica Serra d'Or. Mit Cuca Canals zusammen schrieb er die Dialoge für den Film Lust auf Fleisch von Bigas Luna und mit Jérôme Savary die für Der Tango des Don Juan. Sein gesamtes Werk ist bei Quaderns Crema verlegt und in mehr als zwanzig Sprachen übersetzt.
Writer. Quim Monzó has always alternated between writing of narrative fiction and articles. He is a frequent contributor to the newspaper La Vanguardia. From his first collectin of short stories, Whew! He Said (1978), one senses an evolution toward the maximum elision of superfluous elements both in terms of fiction as well as in the very model of literary language. Noteworthy among his many collections are The Why of It All (1993), Guadalajara (1996) and Three Christmases (2003). In 2004 he put together his shorter narrative fiction in Eighty-six Stories. Benzine (1983), a novel about the emptiness and nonsense of postmodern art, was published in 1983; and, in 1989 The Enormity of the Tragedy, which plays with the cliché of the character whose days are numbered. His literature written as a journalist is all gathered in a total of seven collections of published articles Zzzzzzzz… (1987), All is a Lie (2000) and The Subject of the Subject (2003), the reading of which offers an inimitable look at the past two decades. Monzó has translated Capote, J.D. Salinger, Bradbury, Hardy, Hemingway, Barth, Miller, and other writers in the English language. He has received, among many others, the National Prize of Literature, the Prudenci Bertrana Prize for Novel, and, on more than one occasion, the Crítica Serra d'Or Award. With Cuca Canals he has written the dialogues of Bigas Luna's Ham, ham and Don Juan's Tango, with Jérôme Savary. All of his work can be found through Quaderns Crema and has been translated into more than twenty languages.
Selected works in translation
English

O'Clock Ballantine Books, 1986
The Enormity of the Tragedy Peter Owen Publishers, 2007

German

Die Aktentasche Frankfurter Verlagsanstalt, 1997
Guadalajara Frankfurter Verlagsanstalt, 1999
Die beste aller Welte Frankfurter Verlagsanstalt, 2002
Hundert Geschichten Frankfurter Verlagsanstalt, 2007

Spanish

Ochenta y seis cuentos, tr. J. Cercas & M. Cohen Anagrama, 2001
Catorce ciudades contando Brooklyn Acantilado, 2004
Splasssh (anthology) Círculo de Lectores, 2004
Guadalajara has been translated into French (Jacqueline Chambon, 1998), Italian (Marcos Y Marcos, 1997), Norwegian (Solum Forlag AS, 2002) and Romanian (Meronia, 2004).
La magnitud de la tragèdia has been published into French (Jacqueline Chambon, 1996), Hebrew (Keter, 2006), Dutch (Meulenhoff bv, 1997) and Czech (Faun, 2007).
L'illa de Maians has been translated into French (Jacqueline Chambon, 1994), Finnish, (Alfabeta Bokförlag Ab, 1992), Russian (Strategia, 2004) and Swedish (Alfabeta Bokförlag, 1990).
El millor dels mons has been translated into French (Jacqueline Chambon, 2003) and Italian (Einaudi, 2005).
El perquè de tot plegat has been translated into German, Slovakian (Cankarjeba Zalozba, 2003), French (Jacqueline Chambon, 1995) Italian (Marcos y Marcos, 1994) and Portuguese (Globo, 2004).