BARBAL, Maria (Tremp, 1949)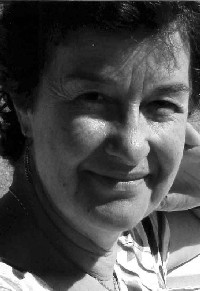 Auditorium R. Llull 10-10-07 10.00
Auditorium Forum 11-10-07 13.00
International Centre 12-10-07 13.30
Escriptora i professora de secundària. Llicenciada en Filologia Hispànica, els seus primers llibres són una revisió del seu univers rural on va néixer i passar l'adolescència. La seva primera novel·la, Pedra de tartera (La Magrana), és la història del desarrelament de la Conxa que és enviada a viure amb uns oncles sense fills, lluny de casa. La novel·la va irrompre en el panorama literari català amb una força inusitada i va ser mereixedora de diversos premis com el Joan Crexells. Pedra de tartera no ha deixat mai de reeditar-se des de 1985 i, recentment, ha estat aclamada pel públic i la crítica alemanyes amb motiu de la seva traducció. Més tard, sense abandonar encara els seus mons, publicà a La Magrana, Mel i metzines (1990) i Càmfora (1992), una història d'amors i desamors, que li mereixerà el Premi Nacional de Literatura Catalana. A poc a poc, però, abandona els temes rurals per a situar les històries en contextos més urbans. I si a Carrer Bolívia (Edicions 62, 1999) se'ns parla de l'arribada d'emigrants a Catalunya, a País íntim (Columna, 2005) la seva darrera novel·la -mereixedora del premi Prudenci Bertrana- se'ns explica la nostra història més recent: l'abans, el durant i el després de la guerra, la transició i la democràcia, a través de la difícil relació entre mare i filla. És Creu de Sant Jordi (2001).
Schriftstellerin und Gymnasiallehrerin. Studienabschluss in spanischer Philologie. Ihre ersten Bücher sind eine Revision des ländlichen Universums, in dem sie geboren und aufgewachsen ist. Ihr erster Roman Wie ein Stein im Geröll (La Magrana) ist die Geschichte der Entwurzelung Conxas, die zu weit entfernt lebenden kinderlosen Verwandten geschickt wird. Der Roman war in Katalonien außergewöhnlich erfolgreich und wurde mit mehreren Preisen, darunter dem Joan-Crexells-Preis, ausgezeichnet. Wie ein Stein im Geröll wurde seit 1985 ohne Unterbrechung immer wieder aufgelegt und findet seit kurzem in seiner Übersetzung ins Deutsche auch regen Zuspruch bei der deutschsprachigen Fachkritik und dem Publikum. Später und ohne ihre Welten zu verlassen, erschienen ebenfalls bei La Magrana Honig und Gift (1990) und Kampfer (1992), eine Geschichte von Liebe und Trennungen, die Maria Barbal den Premi Nacional de Literatura Catalana einbrachte. Stück für Stück löste sie sich jedoch von den ländlichen Themen und siedelte ihre Geschichten in städtischeren Kontexten an. Während Die Bolivien-Straße (Edicions 62, 1999) von der Ankunft von Einwanderern in Katalonien erzählt, berichtet ihr neuer Roman Inneres Land (Columna, 2005) –ausgezeichnet mit dem Prudenci-Bertrana-Preis– über unsere jüngste Geschichte: Er umfasst die Zeit vor, während und nach dem Krieg, die Transición und die Demokratie, und zwar beschrieben anhand der schwierigen Beziehung zwischen Mutter und Tochter. 2001 wurde Maria Barbal mit dem Sant-Jordi-Kreuz ausgezeichnet.
Writer and secondary school teacher. Maria Barbal has a master's degree in Hispanic Language and Literature. Her first books revisit her rural universe, where she was born and raised. Thus, her first novel Stone of Debris (La Magrana), is the story of the unraveling of Conxa, who is sent to live with some childless uncles far from home. The novel erupted onto the Catalan literary scene with unusual force and was the deserved winner of many awards, such as the Joan Crexells Prize for narrative. Since 1985, Stone of Debris has been steadily reissued, and recently, due to its translation into German, it has been acclaimed by the German public and German critic circles. Later, still without abandoning her world, she published through La Magrana Honey and Nightshades (1990) and Camphor (1992), a story of love and of lack of love, that earned the National Catalan Literature Prize. Slowly, however, she moved away from rural themes in order to situate her stories in more urban contexts. And thus Bolivia Street (Edicions 62, 1999) speaks of the arrival of emigrants to Catalonia, and Intimate Country (Columna, 2005) – winner of the Prudenci Bertrana Prize – explains our most recent history: the before, during and after of the war, the transition and democracy through the lens of the difficult relationship between a mother and child. In 2001 she received the Creu de Sant Jordi.
Selected works in translation
Asturian Piedra de llerón Trabe, 1992
French Pierre d'éboulis Tinta blava, 2004
German Wie ein Stein im Geröll Transit Buchverlag, 2007
Portuguese Cânfora Difel, 1997
Spanish

Canto rodado Lumen, 1995
Alcanfor Lumen, 1998
Calle Bolivia El Aleph Editores, 2001
Bella edad Diagonal, 2003